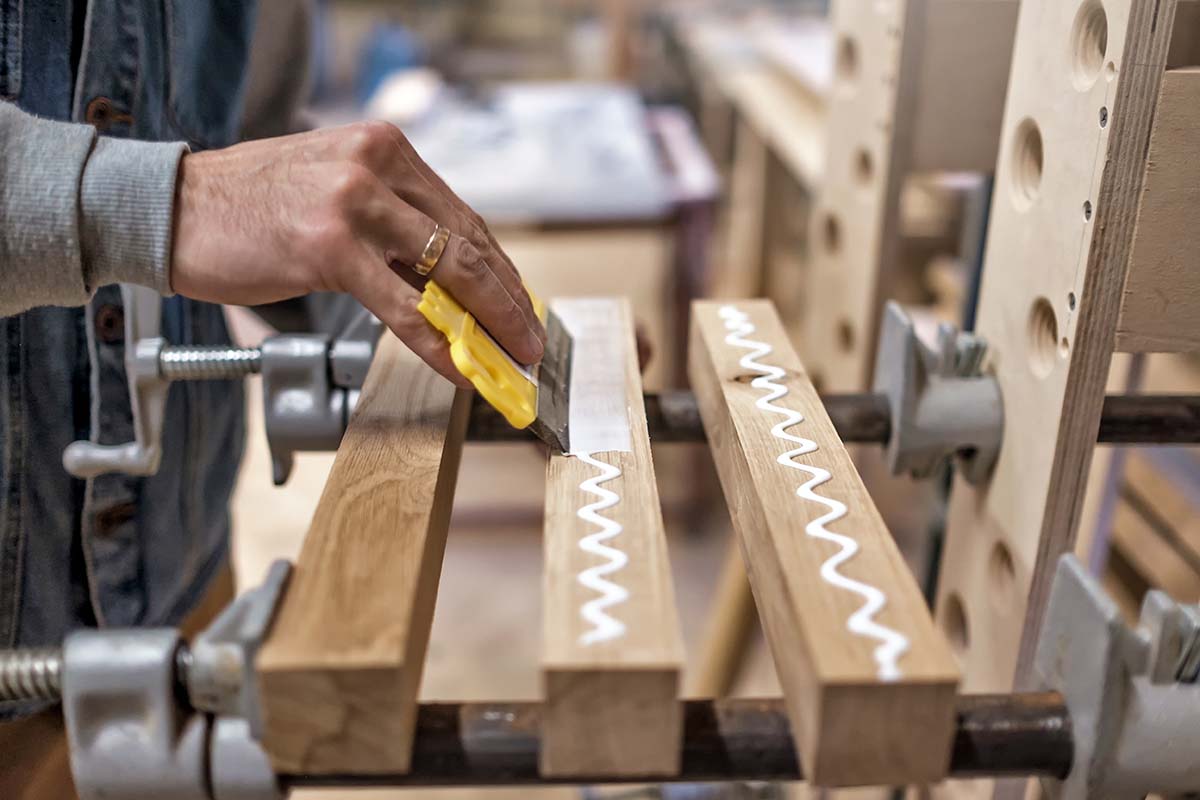 Steve still uses some of his grandfather's woodworking tools in crafting his custom furniture. He builds in pine, cherry, juniper, walnut, and oak. In addition to his own unique designs, many of his projects follow the Molesworth design style. His projects have included living and dining room sets, bedroom ensembles, gun cases, and libraries (Candy always needs more bookcases!).
Steve's furniture is uniquely crafted and he does every step of the process by himself, from creating a design to selecting the wood, to cutting, gluing, sanding, staining, and finishing. Each piece is quality from top to bottom. 
Bed Headboard & Footboard
Designed/created by Steve
This cherry bedroom set includes a queen-sized bed, nightstands, dressers in two sizes, and even a bench where you can sit and put on your shoes.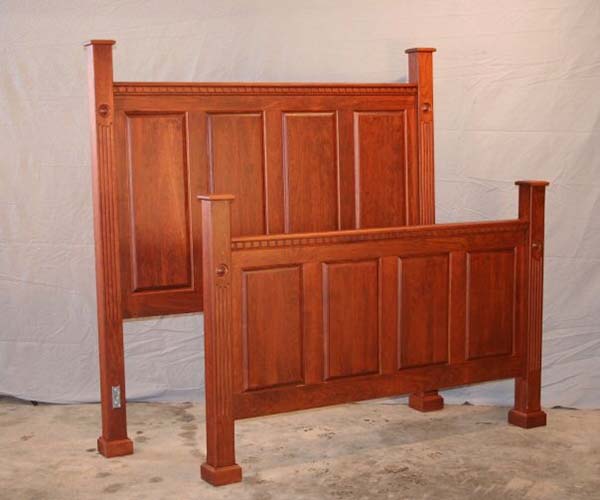 Designed/created by Steve
Most of Steve's living room furniture is crafted in the style of Thomas Molesworth featuring pine with leather cushions. The couch and chairs have brass accents.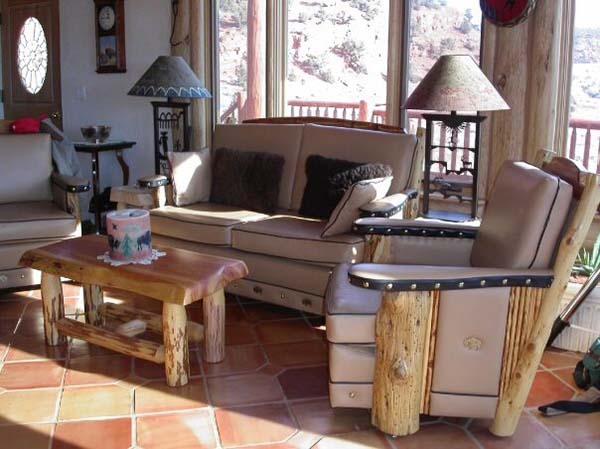 Designed/created by Steve
Dark, distressed leather and burl wood make this a classic living room set, constructed in the style of Thomas Molesworth.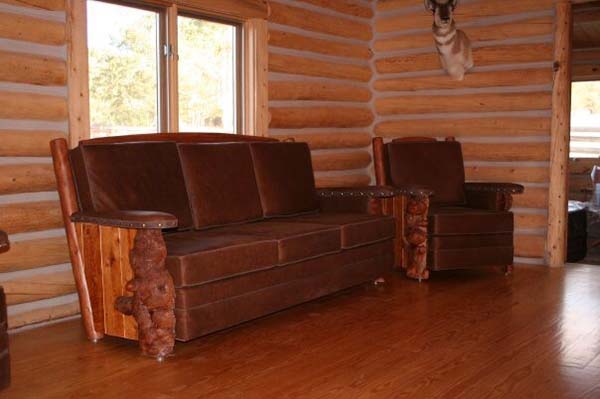 Designed/created by Steve
Crafted in cherry using the same design as the bedroom set, this large armoiore has four over-sized drawers and an enclosed top with large doors and adjustable shelves.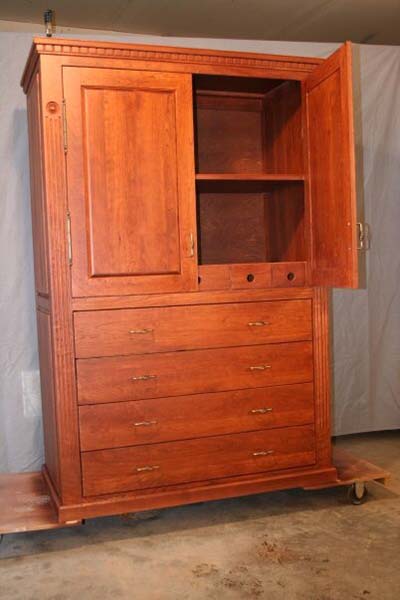 Designed/created by Steve
Steve built this gun display case for the Grand Encampment Museum to house the museum's unique and rare collection of guns. The unit features large locking drawers where additional guns can be stored when not on display. The top unit also has locking glass doors.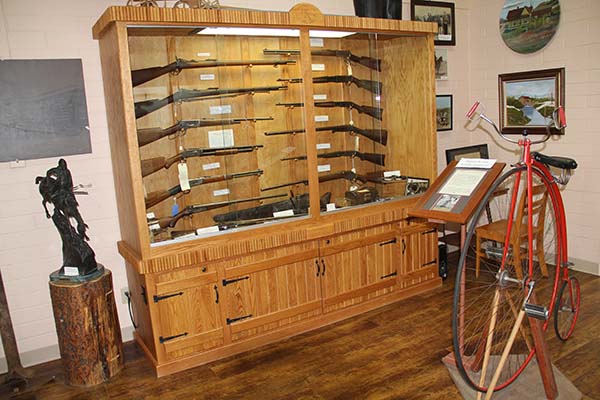 Juniper Dining Room Table
Designed/created by Steve
Not easy to work with, juniper is nevertheless one of Steve's favorite woods for furniture in large part because of its unique character and rich color. Using an applied pole technique to trim the table surface, there is enough grain, color, and style to appeal to anyone who likes pure Western decor.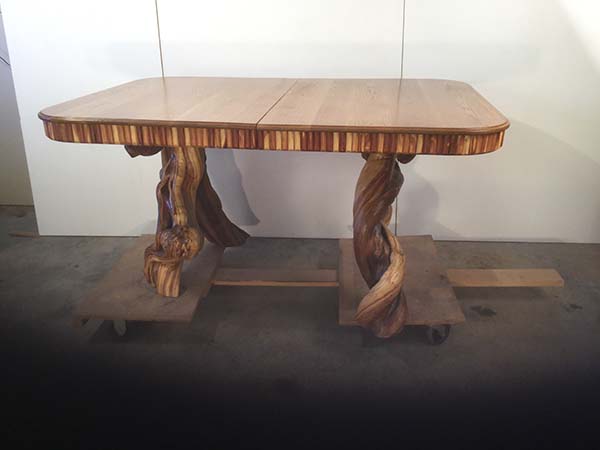 Designed/created by Steve
Steve built the table and chairs as well as all of the pine cabinets in this private home's dining room. The chairs and table are crafted of juniper collected on the owners' ranch property, and the seats are covered with hair-on buffalo hide. One of the chairs even has the bison tail as an accent.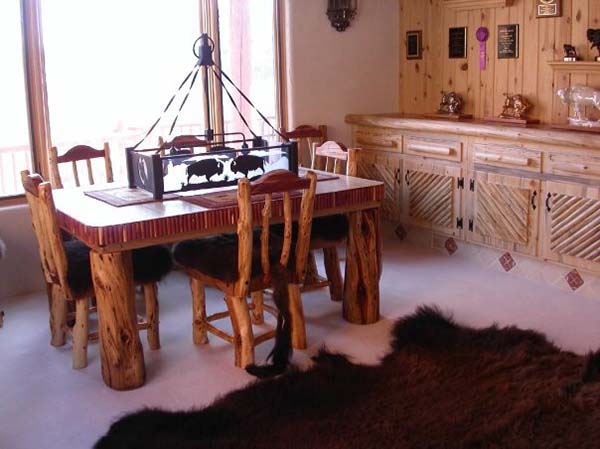 Designed/created by Steve
Steve's most recent Molesworth-style loveseats prove that one loveseat is good, and two are great … there is plenty of room for the author-owners to spread out and read proof on their newest novels.